Share a Scare for $50 OFF!
Oct 13th, 2016
Want to save $50 on your next order? The magic word is BOO!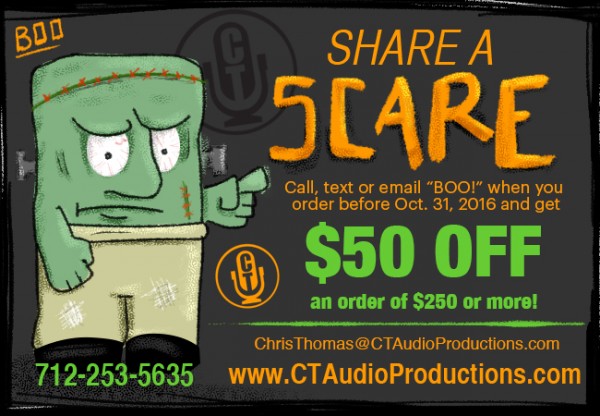 Across the country, people are decorating, carving pumpkins, enjoying bonfires, bobbing for apples and preparing to trick-or-treat! Although 2016 has flown by faster than the leaves making their way through our yards, it has been a year full of fun and memorable voice-over projects with people like you. We value your business and friendship very much.
So as the weather gets cooler, we search for the meaning in fall. And the answer...is found in sugar. Yep, piles and piles of sugar! Candy corn (locally grown of course), candy buttons, candy cigarettes (from a more innocent time), candy necklaces, candy bars, Dum Dums...hey now, let's keep this positive :)
Milkduds, Smarties, M&Ms, DOTS, Tootsie Rolls, Starburst, Nerds, Snickers, and Werther's Original - if you prefer your sugar in a nostalgic, high brow wrapper.
SO DIG IN! Then, when your sugar high fades and you need a friend that cares...call, e-mail, text or tweet the word "BOO!" or contact us here and enjoy this treat of $50 OFF* your next order. Happy Halloween! .
Sincerely,
Chris Thomas
"Share a Scare" art by Michaela Schuett Illustration.